Annie Lindgren | North Forty News
Saddles 2 Paddles brings new opportunities for Wellington by offering horseback riding and paddleboarding.
Jennifer wanted to find a way to give back. After losing her husband and her job within three years, she immersed herself in her community; she spent time at the Wellington Public Library, creating lifelong friendships, enjoying a decent copy machine and working internet connection, and solace in a book. To stave off depression as the Pandemic settled in, Jennifer took to walking, writing, riding, rafting, and reading, all things she loved and was passionate about. Her walks got her out into nature. Writing a quick seventeen-syllable Haiku or three things she was grateful for a few times a week made journaling fun and rewarding. Riding her horses alone or with her neighbors gave her a chance to feel connected and alive.
Jennifer shared her concerns with her horses, finding them great listeners, reacting calmly and compassionately without judgment. Sharing those same concerns with her neighbors gave her a sense of normalcy as they voiced similar worries. With some reframing during their ride, they turned obstacles into opportunities in no time, laughing their problems away and seeing a bright future for themselves. Spending time on a raft with dear friends close by turned the focus from inward to outward, seeing all the beauty around her; life was vibrant and authentic. Reading every day, a recommended book from the Library, the North Forty News, or a book on something she wanted to learn about kept her close to her family as they often shared books and articles.
There had to be a way to spread joy and give people hope and happiness through these passions. That's when Saddles 2 Paddles sprang to life. These are two things that Jennifer knows about; she's been saddling up horses since she was eight and paddling boats as a paddle captain or on the oars since her early twenties. Jennifer just ran 280 miles on the Grand Canyon, twenty days on the oars with ten other amazing boaters and friends! It had been a dream for a long time, and that's what life is about – making our dreams come true and helping others make their dreams come true.
If you are looking for an outdoor adventure and want to try out horseback riding and paddling (either an inflatable kayak or a stand-up paddleboard), please reach out to Jennifer; she would love to take you out for some laughter, learning, and fun!
Starting May 30, through September 30, 2022, at Saddles 2 Paddles (S2P) Base Camp and Smith Lake Reservoir, both in Wellington, S2P is offering the following, seven days a week (weather permitting):
9-12 am – Saddling and Horseback Riding at S2P Base Camp in Wellington
12-1 pm – Lunch in the Secret Garden
1-3 pm – Paddling at Smith Reservoir
The cost is $99 per person.
S2P offers additional classes, including morning yoga and stretching at Smith Reservoir on Stand Up Paddle Boards (SUPs). Don't know how to ride or float? That's ok! S2P offers private and group horseback riding, inflatable kayaking, and stand-up paddleboarding lessons. They also have space for weddings, parties, and camping. Just reach out and ask for availability and pricing.
SUPs are available for rental if you don't have your own: $15 for Class, $15 for SUP Rental, and $4 for Personal Flotation Device Rental. Ages are eight and up. You might find a coupon in today's paper. To sign up, call or email at 303-493-1442 or saddles2paddles@gmail.com.
"S2P is the perfect outdoor experience that combines fun and relaxation, and I don't think there is anything more calming than kayaking on a nice afternoon," shares Zaiah.
"I spent a night camping at Saddles 2 Paddles base camp and loved it! Jennifer is a thoughtful host who offers a spacious, quiet place to camp in a beautiful setting. The location is close to great paddling and extensive trails. While I enjoyed my stay as a solo traveler, I think Saddles 2 Paddles would also be a wonderful spot to camp with a large group of friends/family. There's lots of room to spread out to camp and then come together around a campfire or just gaze at the night sky."
Ann B., Denver
"Saddles 2 Paddles is an amazing opportunity to learn about horses, SUPs, and kayaking. I have been blessed to ride Jennifer's horses multiple times. She has made me feel safe and comfortable every single time! Before riding, she goes over the importance of grooming the horse, which is such a fun experience because she lets you brush the horse. She goes over safety and makes riding fun, safe, and comfortable." Bridget, Fort Collins.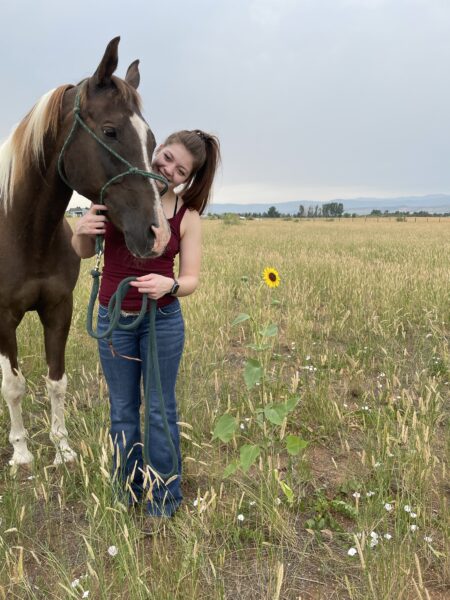 Follow Saddles 2 Paddles on Facebook for details on classes and other things happening.
Article Published in North Forty News, May 2022